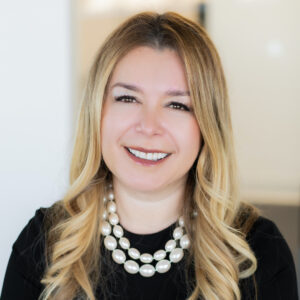 Rita Sostrin
Attorney at Law
Sostrin Immigration Lawyers, LLP
21650 Oxnard Street
Suite 1408
Woodland Hills, California 91367
Practice Areas
Arts & Entertainment Visas|Citizenship and Naturalization|Employment-based Immigrant Visas|Non-Immigrant Visas (Work-Authorized)|PERM Labor Certification
Awards & Recognitions
Awarded "Lawyer of the Year" in Immigration Law in Los Angeles by Best Lawyers of America, 2022
Listed in Who's Who of Corporate Immigration Lawyers as "Thought Leader," 2018 to Present
Listed in U.S. News & World Report Best Lawyers, 2014 to Present
Listed in Best Lawyers of America, 2012 to Present
Listed in Chambers USA, 2009 to Present
Listed in The International Who's Who of Corporate Immigration Lawyers, 2005 to Present
Awarded AILA President's Commendations for Outstanding Service (2021 and 2008)
Memberships & Associations
United States Supreme Court
Minnesota Supreme Court
Board Member, International Medical Graduate (IMG) Taskforce, 2000 to Present
Senior Editor, Immigration Practice Pointers and Immigration & Nationality Law Handbook, 2005 to Present
Pro-bono & Community Service
Board Member, International Medical Graduate (IMG) Taskforce, 2000 to Present
Senior Editor, Immigration Practice Pointers and Immigration & Nationality Law Handbook, 2005 to Present
Member, AILA USCIS HQ (Benefits Policy) Liaison Committee, 2019 to 2022
Member, AILA Business Immigration Response Team, 2018 to 2019
Editor, Kurzban's Immigration Law Sourcebook, 2014, 2018, 2020
Member, AILA Arts, Culture, Entertainment & Science Committee, 2016 to 2017; 2014 to 2015
Member, AILA Annual Conference Committee, 2016 to 2017, 2014 to 2015
Chair, AILA-California Service Center Liaison Committee, 2011 to 2014; 2006 to 2008
Member, AILA Service Center Operations Committee, 2011 to 2014; 2006 to 2008
Editor, Immigration Options for Academics & Researchers, Third Edition, 2021; Second Edition, 2011
Vice Chair, AILA Healthcare Professional/Physician Committee, 2009 to 2010
Vice Chair, AILA Board of Publications, 2008 to 2009
Member, AILA Board of Publications, 2008 to 2010
Associate Editor, Immigration Options for Physicians, Third Edition, 2008; Second Edition, 2004
Member, Board of Directors, HIAS, 2004 to 2009
Member, AILA-California Service Center Liaison Committee, 2002 to 2006
Published Works
"Pathways to Permanent Residence," Fifth Biennial Physician Immigration Law Institute, Washington, DC (December 4, 2023) (Discussion Leader).
"Managing Our Practices & Mental Health: Helping Ourselves While Helping Others," U.S. Immigration Law Conference – Middle East, Tel Aviv, Israel (May 8, 2023) (Discussion Leader).
"Extraordinary and Outstanding: O-1As and EB-1s for Science and Business," AILA Professional Development Webinar (March 9, 2023).
"Compensation Structures that Work for Modern Immigration Firms," AILA Business School for Immigration Attorneys Conference & Webcast, Las Vegas, NV (December 6, 2022) (Discussion Leader).
"The EB-1A, NIW, and Schedule A in Nontraditional Fields," AILA Annual Conference & Webcast on Immigration Law, New York, NY (June 17, 2022).
"Celebrity Immigration: Os, Ps, and EBs," Upper Midwest Immigration Law Conference, Minneapolis, MN (May 20, 2022).
Education
Hamline University School of Law, Juris Doctor (J.D.), Minneapolis, Minnesota
University of Minnesota, Bachelor of Arts (B.A.), International Relations, St. Paul, Minnesota
Languages
Russian
Rita Sostrin is a founding partner of Sostrin Immigration Lawyers, LLP.  Prior to launching Sostrin Immigration Lawyers in 2010, she worked at top immigration law firms and served in various leadership positions on behalf of the American Immigration Lawyers Association (AILA).
Ms. Sostrin has become known as one of the leading experts in immigration law matters for individuals of extraordinary abilities.  Throughout her professional career, Ms. Sostrin has represented a diverse array of clients both nationally and globally, handling all aspects of employment-based immigration for leading academic institutions, medical centers, and entertainment companies, with a focus on visas for the immigration of individuals with extraordinary abilities.  Having established an impressive record of winning complex cases in this area of legal practice, she routinely speaks at regional, national, and international conferences and writes for legal publications.
With growing restrictions on immigration policies, Ms. Sostrin's experience and insight in managing intricate cases is more invaluable than ever to her clients, as well as fellow colleagues within the legal community who often seek her counsel.  In addition, she is frequently sought out by the national media to provide perspective and commentary on immigration policies, and has been featured in The New York Times, The Wall Street Journal, Forbes, Bloomberg Law, Billboard, and National Public Radio.  In recognition of Ms. Sostrin's contributions to the field of immigration, Who's Who of Corporate Immigration Lawyers has bestowed on her the prestigious designation of "Thought Leader."  With this distinction, she joins a select group of practitioners whom Who's Who not only recognizes for their "expertise and experience advising on some of the world's most significant and cutting-edge legal matters, but also their ability to innovate, inspire, and go above and beyond to deliver for their clients."  She was also selected as "Lawyer of the Year" in Immigration Law in Los Angeles by Best Lawyers of America.
In addition to Who's Who, Ms. Sostrin is also listed in several other publications that feature top attorneys based on extensive peer review, including Chambers USA, The Best Lawyers in America, and U.S. News & World Report Best Lawyers.  She was also honored by AILA's President's Commendations for her outstanding service.  She is a board member of the International Medical Graduate (IMG) Taskforce, and senior editor of Immigration Practice Pointers.  Over the years, Ms. Sostrin has served in various leadership positions on behalf of the American Immigration Lawyers Association (AILA), including the USCIS Headquarters Benefits Policy Committee, Business Immigration Response Team, and the California Service Center Liaison Committee, which she chaired for several years.  She has authored numerous articles on immigration issues and served as an editor for several definitive books and publications, including Kurzban's Immigration Law Sourcebook.